John Anson Ford Theatre Information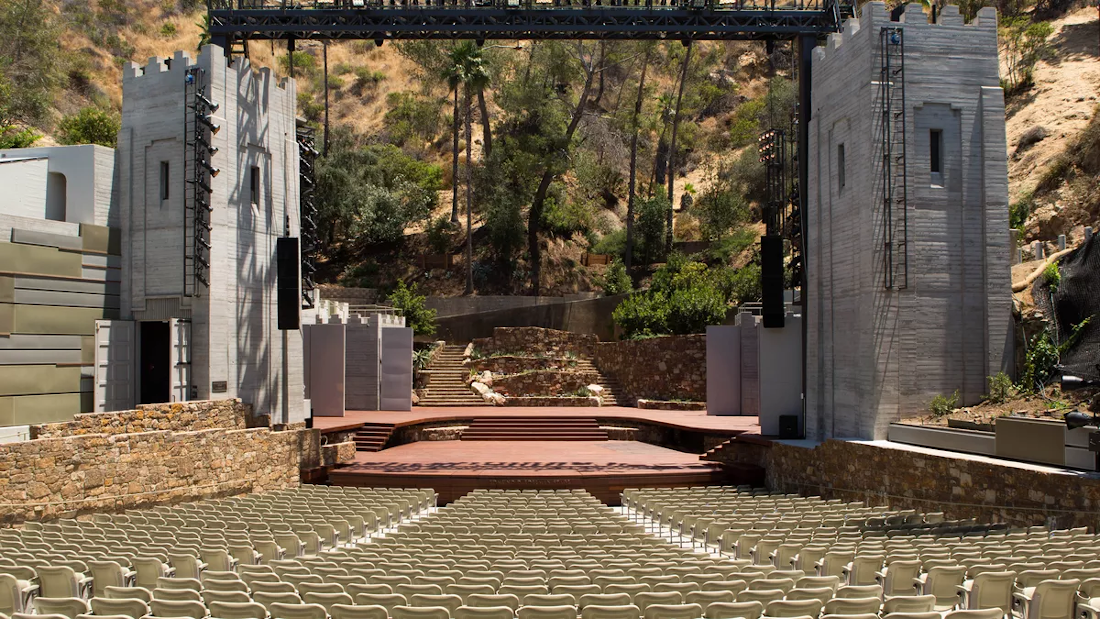 The John Anson Ford Theatre is a music venue in the Hollywood Hills neighborhood of LA. The venue seats 1,200 music lovers in an outdoor amphitheater setup and is located in a county regional park with operation duties belonging to the famous Ford Theatre Foundation and the LA County Department of Parks and Recreation.
The original venue was built in 1920 as The Pilgrimage Theatre, a venue for The Pilgrimage Play. The author, Christine Wetherill Stevenson, believed that the natural and rugged beauty of the Cahuenga Pass would provide a perfect outdoor setting for the play. So she worked together with Mrs. Chauncey D. Clark to purchase the land, including a section upon which the Hollywood Bowl now sits. A wooden amphitheater was built on the site and became the home of the play from 1920 to 1929, until a brush fire in October 1929 destroyed the structure.
A new theatre was later built out of concrete and opened in 1931. The new theatre was designed in the style of ancient Judaic architecture to resemble the gates of Jerusalem. Once again, it became the home for The Pilgrimage Play year by year, with a brief interruption by World War II. Then, ten years later in 1941, the land was deeded to the County of LA. A lawsuit in 1964 ended The Pilgrimage Play's annual productions due to its religious nature.
With the need for a new purpose, the venue was then renamed The John Anson Ford Theatre in honor of the then late LA County Supervisor's support for the arts. John Anson Ford had helped found the LA County Arts Commission and encouraged the Board of Supervisors to support building The Music Center among other achievements.
Today, the venue continues John Anson Ford's mission to support the arts by providing a high-quality venue as well as a partnership program that enabled LA County music, dance, and theatre groups to produce works in a major venue. The venue also doesn't play favorites and features an eclectic mix of music, dance, theatre, film, and family events to reflect the diverse community of LA County.
For more information on the John Anson Ford Amphitheatre see the pages below:
John Anson Ford Theatre Parking:
For parking information and satellite navigation tips for the John Anson Ford Theatre.
Ticket Policies:
For ticket guarantees, ticket verification and refund policies.
John Anson Ford Theatre Seating Chart:
For John Anson Ford Amphitheatre seating map and seating information.